In 2007 RMB sponsored internationally acclaimed artist, William Kentridge's production of The Magic Flute, that toured Johannesburg and Cape Town.
Kentridge created powerful visuals to complement Wolfgang Amadeus Mozart's timeless musical score. He used his trademark charcoal-erasure drawing and filming technique to create dramatically animated projections onto a combination of gauzes and screens for the production.
A television commercial (which was also projected in cinemas) was created – using Kentridge's visuals of The Magic Flute to promote the production – another example of the business of art complementing the art of business.





William Kentridge, Bird Catcher (detail), digital print in pigment inks on cotton rag paper, AP,
64 x 200cm, 2006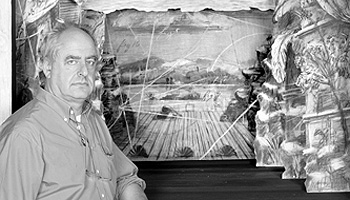 Images from Kentridge's groundbreaking production of The Magic Flute