Entangled Head
RMB believes in the power of art to boost Africa's creative economy. Unlike other corporates, great and valuable works are not reserved for executive floors and boardrooms, but can be found throughout RMB's offices. The latest addition to our diverse collection is Angus Taylor's Entangled Head which is located at the entrance of 1 Merchant Place.
The bold piece was commissioned three years ago and is crafted from Bushveld stone and Belfast granite weighing over 1.5 tons. It represents our entanglements with nature and ultimately each other. It is a perfect metaphor for our communication platform around THINKING. PULLING. TOGETHER.
Boxing Hare
Guy du Toit's apparent irreverence can obfuscate the fact that he is undoubtedly one of South Africa's most accomplished sculptors. "Liberated" (as he says) by the advent of democracy in South Africa from having to concern himself and his art with the notions of identity, he has happily turned his attention to "less provincial" pursuits like reveling in form, concept and media for their own sakes. Du Toit uses the unexpected juxtaposition of bronze casts of universal, everyday found (and made-to-look-found) objects to invite his audience to invent dialogue themselves. Such is one of his latest bronzes, Boxing Hare – recently acquired by RMB as part of its Corporate Art Collection.
Guy du Toit
Boxing Hare 2/9
Bronze
250 x 75 x 75cm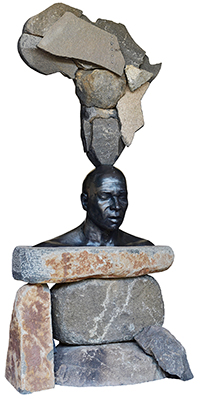 Angus Taylor
Entangled Head
Bushveld stone and Belfast granite
Weighing over 1.5 ton
2014