RMB's contribution to the creative economy is not limited to the visual arts, but extends to the disciplines of music, dance, drama, and heritage.
RMB brings War Horse home to South Africa
The National Theatre of Great Britain production, War Horse made its première in South Africa in October 2014 at Monte Casino, Johannesburg. This award-winning stage production featured ground-breaking puppetry work by South Africa's Handspring Puppet Company and tells a remarkable tale of courage, loyalty and friendship. War Horse has been seen by nearly five million people worldwide and was for the first time ever shown in South Africa, courtesy of Pieter Toerien Productions, Rand Merchant Bank, The National Theatre of Great Britain and the Handspring Puppet Company.
War Horse is based on a novel by Michael Morpurgo and adapted by Nick Stafford in association with the Handspring Puppet Company. Every single puppet used in War Horse is hand-crafted by the Handspring Puppet Company which brings breathing and galloping horses to life on stage.
Powerful story
War Horse is the powerful story of a young boy called Albert and his beloved horse, Joey, who has been requisitioned to fight for the British in World War I. Caught in enemy crossfire, Joey ends up serving on both sides during the war before landing in no-man's land, while Albert, not old enough to enlist, embarks on a treacherous mission to find his horse and bring him home.
During its successful run on Broadway, the production received five Tony Awards and a special Tony Award for the Handspring Puppet Company. War Horse has become the national Theatre's flagship — earning in excess of 30% of its total annual income and enabling the Theatre to stave off retrenchments in the face of substantial cuts in government arts funding.
Adrian Kohler and Basil Jones (co-founders of the Handspring Puppet Company), together with Pieter Toerien Productions have selected RMB as their brand partner to bring War Horse to South African audiences. RMB's good business of branding will be balanced with thorough and measurable good work for which the FirstRand Foundation has set aside R2-m to be used towards the extensive educational outreach component of the Production.

RMB Starlight Classics
Twice a year, RMB hosts the much-loved Starlight Classics concert in Cape Town and Johannesburg respectively. Starlight Classics is the perfect opportunity to host clients, family and friends in a relaxed, yet festive setting. This year RMB guests were treated to performances by internationally acclaimed and proudly South African Pumeza Matshikiza; principal tenor of the Linz Opera House in Germany, Jacques le Roux; and local queen of rock, Karen Zoid under the baton of Maestro, Richard Cock, directed by Darren Hayward, accompanied by the full Cape Town Philharmonic Orchestra and the vibrant Mzansi Youth Choir.
RMB has been a proud sponsor of the Mzanzi Youth Choir since its inception in 2003 to give talented, underprivileged young students access to training and performance opportunities locally and abroad, alongside their academic studies. The choir has been selected to represent Africa this April at the Royal Albert Hall in London at the International Youth Festival. THINKING.PULLING. TOGETHER. to grow South Africa's creative economy.

The Magic Flute
In 2007 RMB sponsored internationally acclaimed artist, William Kentridge's production of The Magic Flute, that toured Johannesburg and Cape Town.
Kentridge created powerful visuals to complement Wolfgang Amadeus Mozart's timeless musical score. He used his trademark charcoal-erasure drawing and filming technique to create dramatically animated projections onto a combination of gauzes and screens for the production.
A TV commercial (which was also projected in cinemas) was created — using Kentridge's visuals of The Magic Flute to promote the production — another example of the business of art complementing the art of business.



William Kentridge, Bird Catcher (detail), digital print in pigment inks on cotton rag paper, AP,
64 x 200cm, 2006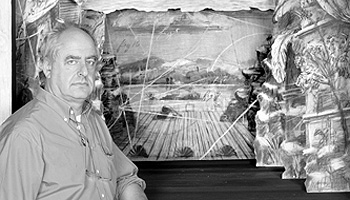 Images from Kentridge's groundbreaking production of The Magic Flute