Where to Invest in Africa 2020
RMB firmly believes that Africa is home to vast business opportunities despite the many challenges facing our continent. We maintain that what we need most to unlock Africa's potential is partnerships that can transform these challenges into opportunities.

RMB Investment Attractiveness Rankings
Egypt maintains its apex spot in our rankings as Morocco emphasises North Africa's dominance by displacing South Africa in the number two position. Tanzania's fall from grace has reshuffled the top ten investment destinations, with Tunisia returning to the fold at number ten while Côte d'Ivoire and Ghana edge ever-closer to the top five.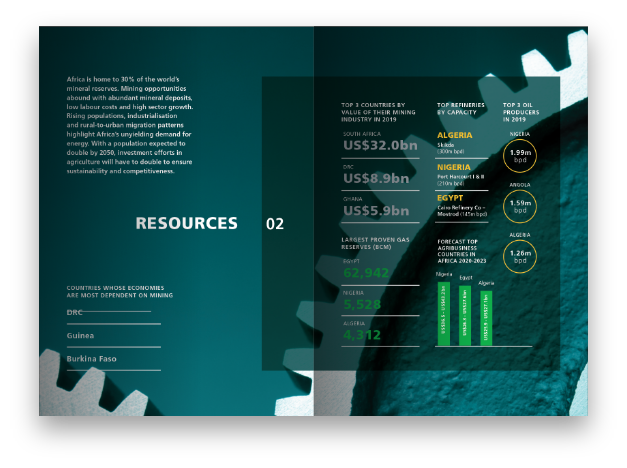 Resources
Africa is home to 30% of the world's mineral reserves. Mining opportunities abound with abundant mineral deposits, low labour costs and high sector growth. Rising populations, industrialisation and rural-to-urban migration patterns highlight Africa's unyielding demand for energy. With a population expected to double by 2050, investment efforts in agriculture will have to double to ensure sustainability and competitiveness.

Retail
Retail in Africa is all about playing the long game. While the middle class is not growing as fast as expected, the potential is still evident in the numbers. The current 350-million-strong middle class is expected to grow to just under one billion by 2040. And with little competition, Africa's highly-unsaturated market is waiting to be serviced.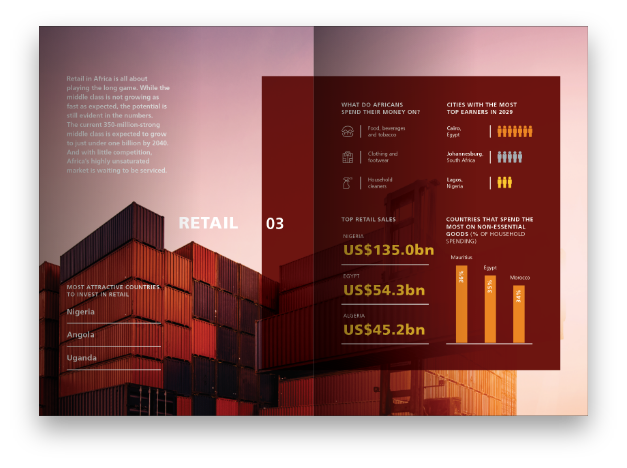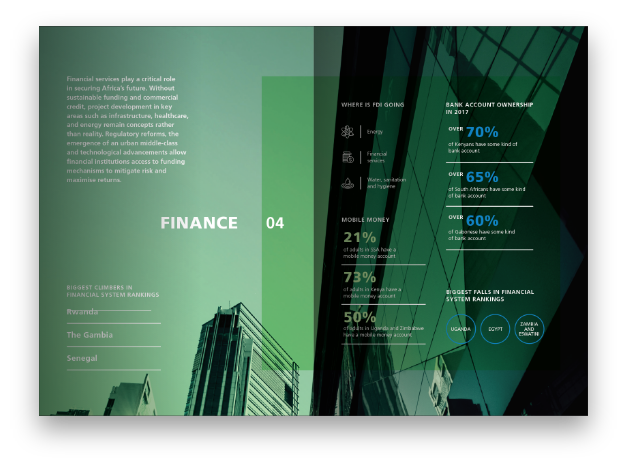 Finance
Financial services play a critical role in securing Africa's future. Without sustainable funding and commercial credit, project development in key areas such as infrastructure, healthcare, and energy remain concepts rather than reality. Regulatory reforms, the emergence of an urban middle-class and technological advancements allow financial institutions access to funding mechanisms to mitigate risk and maximise returns.
Information and Communication Technology
Internet access, long-viewed as a luxury in Africa, is fast becoming crucial to inclusive economic growth. Examples of its innovative use span the continent – from mobile platforms connecting small-scale farmers to markets, to technology unicorns uniting vendors and consumers via sophisticated eCommerce platforms. While vast disparities in access and connectivity exist, falling data charges are spurring myriad new opportunities.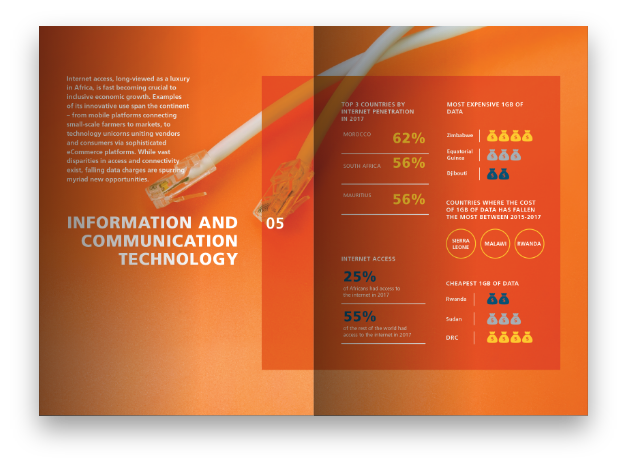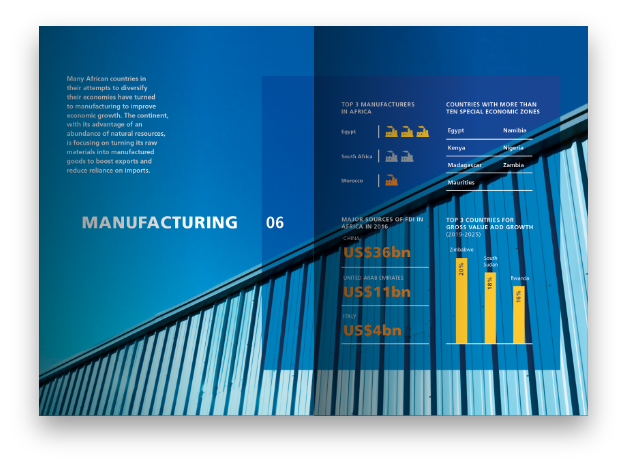 Manufacturing
Many African countries, in their attempts to diversify their economies, have turned to manufacturing to improve economic growth. With its advantage of an abundance of natural resources, the continent is focusing on turning its raw materials into manufactured goods to boost exports and reduce reliance on imports.

Construction
Construction activity is surging as countries attempt to bridge the funding chasm between what's needed (US$130bn-US$170bn annually according to the AfDB) and what's actually being spent (a paltry US$45bn). But, it is commercial real estate in particular that is proving to be a sound investment as returns outstrip those of developed markets.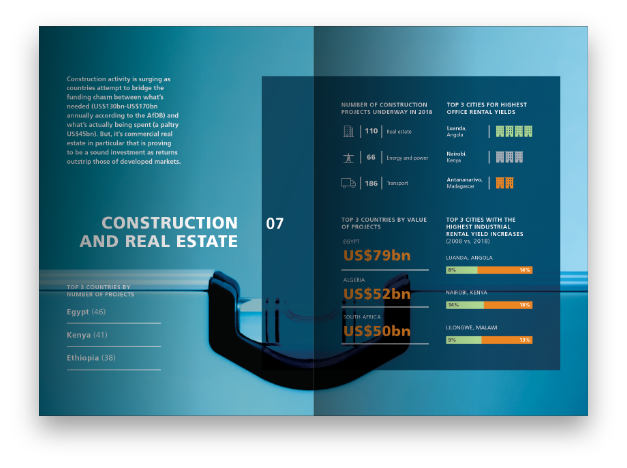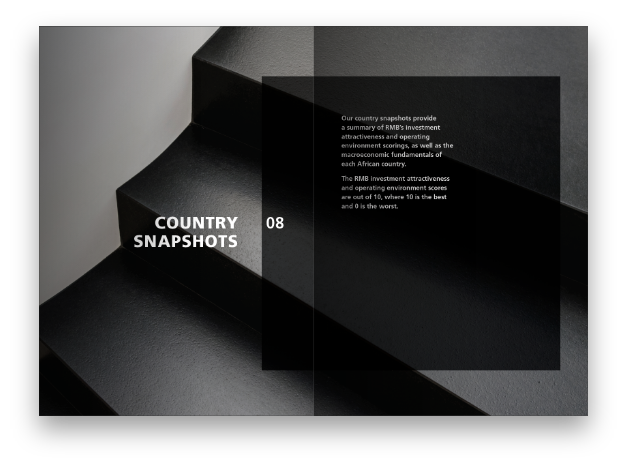 Country snapshots
Our country snapshots provide a summary of RMB's investment attractiveness and operating environment scorings, as well as the macroeconomic fundamentals of each African country.
The RMB investment attractiveness and operating environment scores are out of 10, where 10 is the best and 0 is the worst.